Order picking accounts for as much as
50% of a warehouse's costs
, whether for fulfilling volume orders or direct-to-consumer. Improving accuracy and experience can significantly reduce costs and have a meaningful impact on your company's bottom line.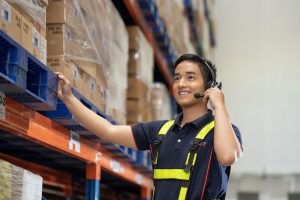 A solution that streamlines the order-picking process will make a world of difference. In the fast-paced landscape of warehousing and logistics in the Philippines, efficiency and accuracy are paramount. As businesses strive to meet growing consumer demands while maintaining cost-effectiveness, innovative solutions become not just advantageous but necessary.
With voice picking, you can revolutionize your operations, leading to better processes and a competitive edge in the market. FAST Logistics Group, the leading company in logistics and selling distribution solutions, has harnessed the power of voice recognition technology into Voice Pick By FAST – a pick-by-voice solution that reduces human errors and enhances overall warehouse productivity.
This also allows employees to receive real-time voice instructions, eliminating the need for paper-based or handheld devices. Implementing voice technology throughout different workflows within your operation can deliver significant benefits, ranging from improved order accuracy to enhanced productivity and efficiency.
To explore, here's what makes voice-picking a compelling choice for your business:
Eliminates the Possibility of Human Errors
In any business, accurate inventory management is crucial. Inaccuracy may have an impact on your margins, resulting in a loss of money. To avoid this, maintaining top accuracy rates while optimizing speed is important. Error-free inventory processes reduce reverse logistics efforts and lessen reviewing activities.
Voice picking reduces the likelihood of errors caused by manual data entry or distractions. The continuous flow of verbal instructions in voice-picking allows for streamlined operations and reduces the time spent on manual data entry. Employees can keep their hands and eyes focused on the task at hand, resulting in faster and more accurate picking.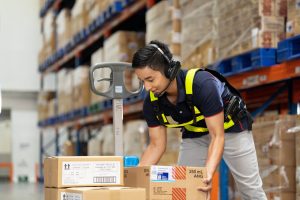 Improves Worker Safety and Productivity
With voice-picking, workers can focus on the work they're performing without having to regularly stop to take instructions or update systems. This is extremely useful when you've got large or heavy items.  The hands-free and eyes-free nature of voice-guided systems enables workers to navigate the warehouse deliberately, locate items quickly, and use both of their hands when picking orders. This productivity boost translates into higher orders throughout and reduced labor costs.
Reduces Training Time
Voice-picking systems are designed to be intuitive and user-friendly. New employees can quickly learn the voice commands and adapt to the system, reducing the training time required for order-picking tasks. This enables businesses to onboard and deploy workers faster, especially during peak periods.
With Honeywell SoundSense™ technology at its core, Voice-Pick by FAST features additional microphones specially designed to identify and slash interference by an impressive 50%. The synergy between these technologies results in substantial improvements in order picking accuracy, speed, and overall operational efficiency.
Minimizes Stockout or Overstock
Warehouse management systems are often integrated with voice-picking systems. As workers confirm their picks through voice commands, the system can immediately update inventory levels. This allows management to get real-time visibility into stock levels and improve inventory accuracy with the use of voice picking devices.
With WMS, the efficiency of distribution and fulfillment centers is enhanced by overseeing inventory, order processing, picking, packing, shipping, and overall warehouse performance. This software solution has adopted Honeywell's WMS to manage its nationwide distribution and fulfillment centers, creating a more efficient and customer-centric supply chain ecosystem. 
Easily Adapts to Changing Business Requirements
Voice picking technology can accommodate seasonal peaks in order volumes, allowing businesses to scale their operations without significant infrastructure or software changes in their warehouse or distribution center. It also offers flexibility in terms of integrating with existing warehouse systems and can be customized to fit specific workflows and processes.
Speak your way to efficiency with a voice picking system

Voice picking systems have become an indispensable tool in the Philippines' warehousing sector, reshaping the way goods are picked, packed, and delivered. And now, voice picking solutions like Voice Pick by FAST are a linchpin in the industry, revolutionizing the way goods are picked and packed, and setting a new standard for streamlined warehouse operations.
Additionally, voice picking technology can be applied to various industries. Regardless of your warehouse operators, company's size, product, or processes, wherever voice can be guided; from dock to stock in busy distribution centers, to inspection and maintenance procedures for business assets in transportation and manufacturing to omnichannel retail fulfillment, everything can be supported by voice pick.
To learn more about how to get your business ahead, you may visit http://linktr.ee/fastlogisticsph or contact our Solutions Expert for a free consultation and we'll help find the right solution that best fits your needs!