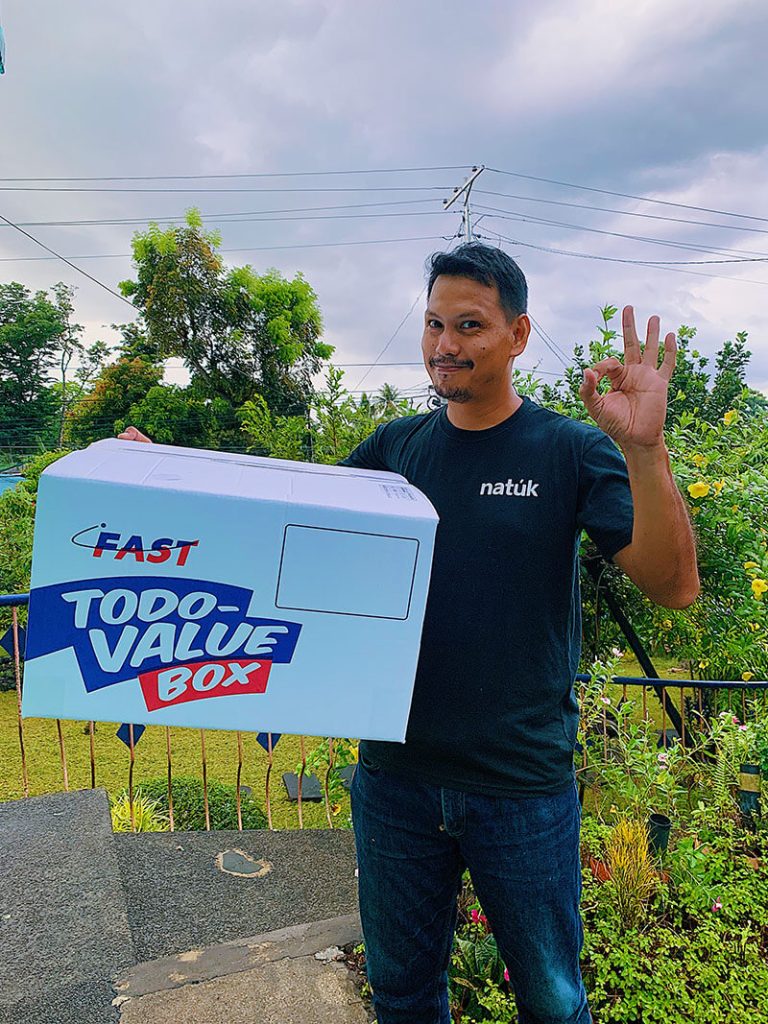 Arnold Lasay from Natuk gives his tips on shipping perishable food products effectively and efficiently. Discover the best practices for packaging, labeling, and distributing your food products.
People in the food business would know how tedious it is shipping your products, especially with the end consumer in mind ensuring the quality is still intact, and they can actually enjoy it once they receive it.    
A ton of research is involved not to mention the time of going through numerous trials and errors it takes in producing your product but also with the packaging or bottling. Let's say that you've already figured all of these out. What comes next is the distribution.  
When it comes to shipping food products, there are a lot of things to take into consideration. You need to make sure that your product is packaged securely so that it doesn't get damaged in transit and avoid spillage. You also need to make sure that your labeling is clear and concise when sending perishable items so that the recipient knows what they're receiving and it's safe for consumption. 
We sit down with an up-and-coming local entrepreneur who has a wealth of knowledge when it comes to packaging and distributing food products effectively and efficiently. He shares his best practices with us and offers some great advice for small and medium businesses who are looking to get their food products onto store shelves. 
Arnold Lasay is the founder and owner of a homegrown local brand Natuk. His products have been steadily growing in popularity and have gotten a lot of demand not only here in the Philippines but also abroad.   
Packaging and distributing food products can be a daunting task for any small business. But with the right advice, it can be a smooth process that helps your business grow. Arnold lends us his expertise brought by his various experience and travails in the food business. He is going to share his best practices for packaging, labeling, and distributing food products effectively and efficiently. So, whether you are just starting out or you have been in the food industry for a while, this interview will provide you with some valuable information!
What's the inspiration behind Natuk?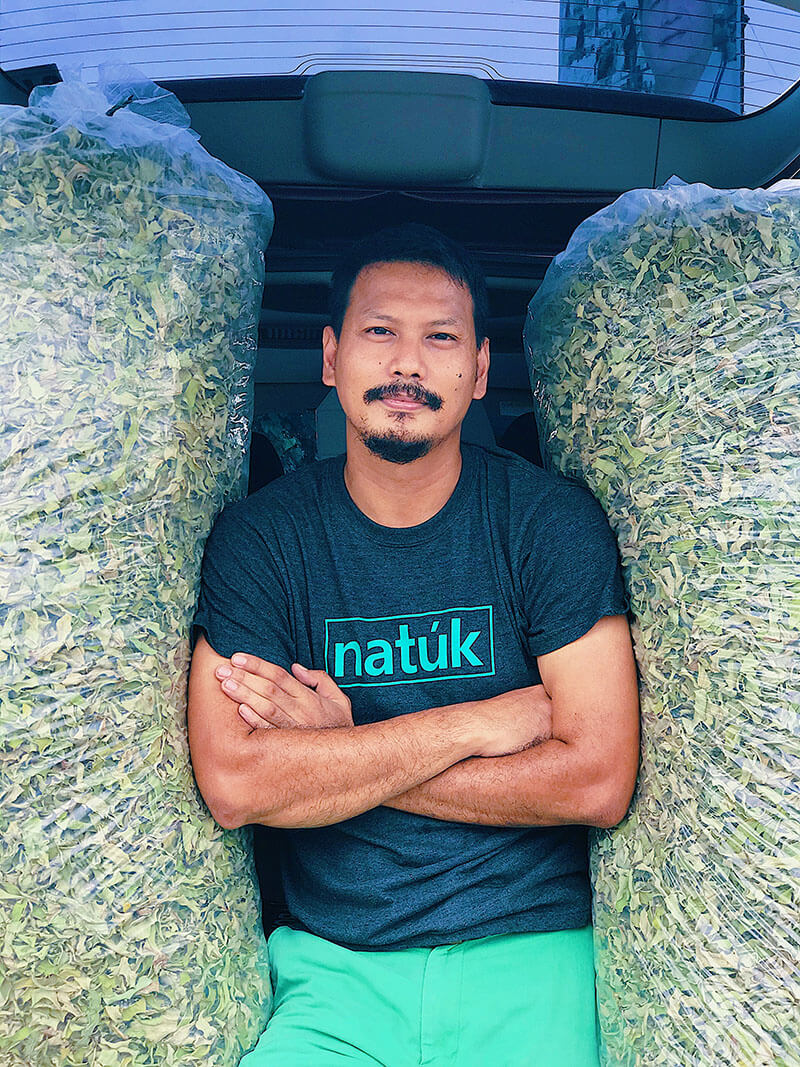 It started in 2017 when we were in our previous company. I was assigned in Pampanga and every time I drive to my place and to work, I keep seeing this super huge banner of this famous tocino brand in Pampanga. It made me think, what brand in Bicol could be synonymous just like this tocino brand in Pampanga? When you think about tocino for example, it's the first thing that enters your mind. When I think of laing, what brand enters your mind? So I didn't have an answer during that time, and I said there should be, and I thought, there should be and that was the time it sparked my interest to build the brand of Natuk.  
What led you to start your own business?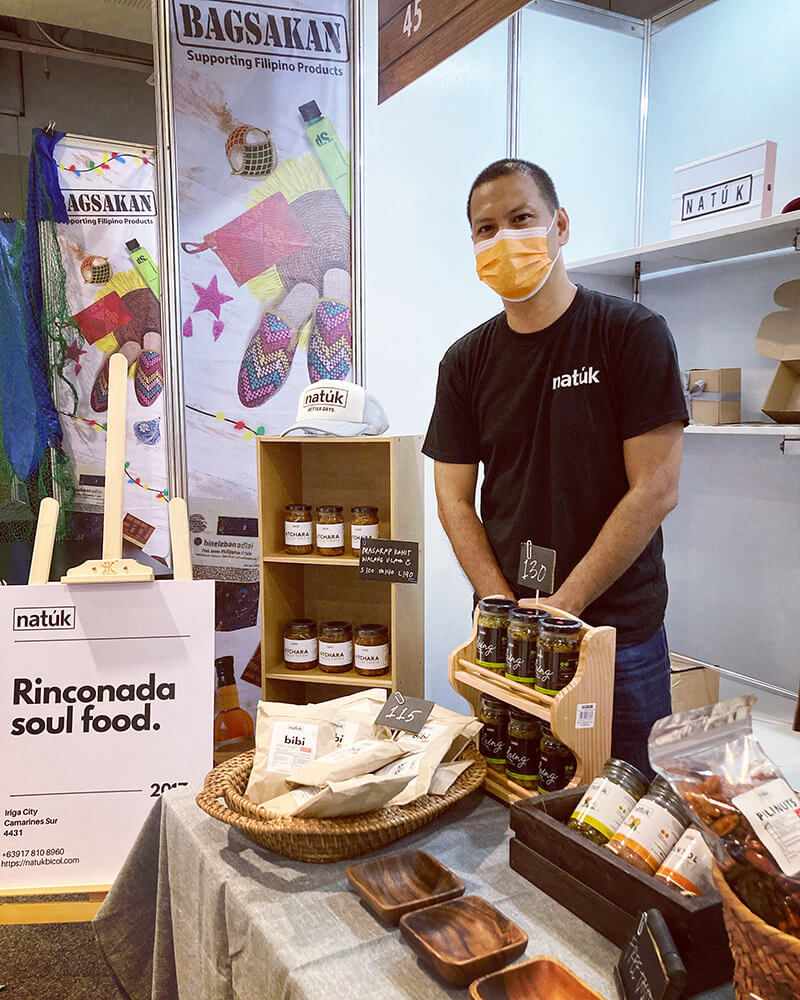 I rarely had a chance to go home to Bicol because there were a lot of demands at my previous job. Well, of course, I grew up getting used to the food at Bicol such as Bicol Express and Laing. Whenever I return from a vacation, I don't even know when I'll get the opportunity to have a vacation again and I really miss it. In the area where I'm staying, it seems like no one really cooks or offers the same flavors that I was expecting in terms of our food. There was this one time when I went home, I was thinking about what I can do for the food to last to Manila, so I did my research, and bottling appeared. Coming home from my vacation, I bottled Santol and brought it to Manila and it all started there. I shared it with my friends, and we all have the same sentiments where we do really miss it since they haven't gone back home to Bicol for quite some time too. They wanted to buy the Santol that I brought, and they really liked it there, that is how the concept came about. 
You started with just catering directly to end consumers (B2C) but now that you've expanded and been active with distribution to resellers, what percentage goes to supermarkets? canteens? retail stores?  
I started catering to end customers but now I've expanded to resellers. I figured for now I can't focus on both ends because I do manufacture at the same time selling so I think I should let others who are good at selling and distributing do it for me. But I do have some customers that buy every now and then. I don't have the percentages now for supermarkets, retail stores, and B2B when you say B2B it's those businesses that serve my products as part of their menu. I think now the percentage is 50% B2B, and 50% customers. But during the next couple of months, it might be 80% distributed to resellers and 20% from our online channels like Facebook, Instagram, and our website.  
This may be an obvious question: how important quality is to your business and how do you keep your products fresh?  
It's very important to emphasize the quality. My saying is that marketing will attract the customers to you right, but the quality will make them purchase or buy again. In keeping my products fresh, I mapped the start and finish of a product cycle. For example, Laing, it's important that the Gabi leaves I get are fresh, it is farmed properly, I know the farmers, and check if the process is clean, so it all started there. Of course, when you're already in the middle of production, high priority is food cleanliness and food safety. Sterilization of basic PPE always, face mask, hairnet, apron, and washing of hands. All of those are part of quality and I test randomly the products, and we have a set of criteria that we follow in terms of what should be achieved in a product, not just taste but you also have to consider the firmness and the amount of oil. We base it there since taste is generally different across but there are non-negotiables for example, our Laing is oily and not cloudy. We thoroughly look at the packaging, like simple labeling wherein it should be aligned and shouldn't be crumpled. It's a long process but for me, we map every stage and meet the quality standards in terms of each of the stages from sourcing the raw materials to cooking, canning, packaging, and labeling until the client receives the product.  
Was there a lot of research involved? Can you share with us some of your experiences?  
Yes, a ton of research of course. Honestly, I'm not a food technologist but logically we got used to doing our own research. Most especially at the beginning, I did a lot of reading and researching various manuals about canning, cooking, food safety, and training. A lot really! Even though there were a lot of things that I researched on, there were some things like the pilot test that didn't click so you get to test your assumptions. During the start, I tested Santol for three months then I tested it again after three months. There are times that you would get surprised that you will discover something new along the way. I'd like to share my experience on the Laing. The most challenging for me to bottle is the Laing and it took me two and a half years to perfect it. There was this one time that it got spoiled but I'm very persistent that it's possible. Even though it took me two and a half years, we are finally releasing it which is perfect for me and it's worth it.  
Walk us through the process of how you currently ship your products and what are the challenges you usually encounter?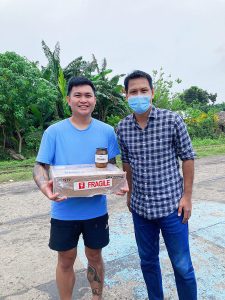 I'll take an example of a customer ordering from me and shipping it to Davao. When they place an order through our website or on Shopee, you'll get notified that the product will be packaged. You must have an exact box that you will be using. It shouldn't be very big or too small. So from there, it's already challenging. I should have a customized box or within the specs of the bottles that I use. Aside from that, it needs to be wrapped. The first thing I do is wrap the bottles individually with bubble wrap, place them inside the box and put a partition inside the box, close it and wrap the box again with three layers then put labels on it like "fragile". It takes me an hour for one order when it comes to shipping. The challenge that I usually encounter in shipping is that it breaks. Of course, I tested the product and box once I packed it and I even sometimes do a drop test. However, I don't want to assume but I think it's also being mishandled by the courier and they're going to return it back to me, that's the problem when it comes to shipping. Another issue is that some parcels go missing and they just offer a refund. Lastly, the lead time, when I ship the products it's already out of my control but of course, there is an average turnaround time. Like I say the average turnaround time from here to Manila is 3-5 days, sometimes it reaches 8-10 days, and that's when the customer gets mad. Some apps have a tracking feature, so I just send a follow-up.  
What are the important things you learned when it comes to packing and shipping your products   
It's better to overpack rather than not overpack a product with more layers of bubble wrap or a sturdier box for example because more often than not, my assumptions will be true if I think that my box isn't that sturdy so the tendency is that the product will break. It's very important to have the right size of the box and the availability of the materials that will be used for packing the product. But of course, the partner provider is the most important since they're the ones whom you're talking to because once the package isn't with me anymore, it's the provider's responsibility already to fulfill the shipping requirements of the client such as the lead time and safety of the parcel as well as customer service whenever the seller and customers encounter an issue.  
What are the main factors you're considering, in terms of choosing the right service provider in shipping your products   
The main factors that I would consider are (1) the experience of the provider, how long they have been in the business, and what their track record is in terms of their lead times (2) the person behind it or the account officer whom I'm talking to is a professional, has the initiative, and is proactive to help me with my shipment concerns. (3) they also provide boxes, or we buy it from them instead and all those things that we need for packing and if they can give of course a competitive rate for sellers like me because one of the biggest costs for online business is the shipping cost. Sometimes when the seller overlooks the shipping costs, the seller might not be able to earn because of the cost of boxes, shipping, etc. Therefore, all these things must be taken into consideration.  
You've been distributing your products not only here but have also gained popularity with Filipinos who are based abroad. What's the percentage of your local orders? What's the local market you're currently targeting, and what are territories you want to be more active with your distribution?   
Yes, I've been distributing my products not only here but abroad as well. I've been shipping ever since I had the FDA permit. I've been shipping to countries like the most active ones; Papua New Guinea, UK, and the US. Some of the customers here are from Dubai, Saudi Arabia, and Australia. I think in terms of the retail customers, the percentage is 50-60% abroad as one of their "pasalubong" and they miss it of course. Locally, the biggest would be in NCR. NCR is the local market that I'm targeting, and I want to expand on more. I currently have four that are distributing in NCR. I plan to target this year to make at least 10 active distributors in NCR plus resellers or B2B clients. For abroad, I'm looking for exporters in those countries that I've mentioned earlier that can cater.  
Can you please share some of your tips with those who are just starting or considering venturing into the food business?  
In my experience, I can share three tips. Number one, you go to the business besides passion. Being in business to help people solve problems and earning an income is part of the process that you want to achieve. For example, in Natuk I built it because there was a problem that I wanted to solve. I want Bicol products that you can bring anywhere, with no need for refrigeration, you can bring them while traveling, on camping trips, etc. Without worrying about packaging, shelf life, etc. So that's the problem that I solved. Number two, I just want you to be prepared. Entrepreneurship or engaging in business is hard and it gets harder. Really! The sooner you put that in your mind and heart, it's also the sooner that you will be able to face the unending challenges. It's also rewarding. Lastly, follow your dreams or what you want to do, if you want to do business go for it. Follow your dreams. I think Jim Carrey said " you can always fail at what you don't want", so you might as well take the chance and do what you love to do. If building a brand is in your heart or making a business and solving problems, then go for it. All things are different for everyone and it's always worth taking a shot at it.