FAST Logistics' 50th anniversary event, Celebrating Collaborations, brought together industry leaders to recognize the outstanding achievements and transformative impact of collaboration and innovation.
FAST Logistics marked its 50th anniversary on June 8, at Shangri-La The Fort in Taguig, Metro Manila, by hosting the first-ever Achievement in Collaboration for Innovation and Solutions Award or the AXIS Award.
The AXIS Award, an embodiment of FAST Logistics' core values, was designed to acknowledge excellence in collaboration and innovation with partners. Six prestigious awards were presented during the event, recognizing the remarkable outcomes and potential of these collaborations in reshaping the logistics industry as a whole.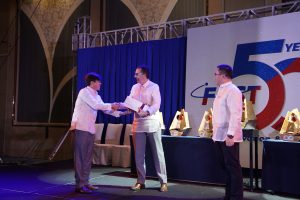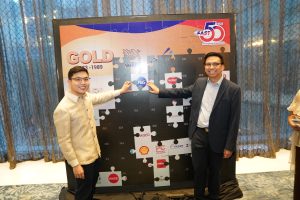 The awardees were selected for their exceptional contributions and commitment to driving innovation, setting new standards, and pushing the boundaries of excellence, resulting in long-term strategic partnerships that put innovation and solutions in FAST's name.
Artistry Meets Achievement: Capili's Trophy Design 
As a testament to the significance of the AXIS Award, FAST Logistics commissioned renowned artist Ross Capili, who is known for his Filipino Asian Modern & Contemporary art style, to design the trophy art that would capture the essence of collaboration and innovation.
Capili's masterpiece, unveiled during the event, drew inspiration from the wooden-hulled sailboat known as the batil, which played a vital role in transporting various cargoes across the Visayas during the pre-Hispanic Era. It symbolized the spirit of human ingenuity, adaptability, and cooperation, showcasing the transformative power of collaboration.
The AXIS Award also underscored the role of collaboration in the logistics industry. Success in logistics hinges upon collaboration, the fusion of ideas, and finding innovative solutions. It is through open dialogue, a shared vision, and a commitment to overcome challenges that FAST Logistics and its partners have achieved remarkable outcomes and set new benchmarks.
The Power of Collaboration: FAST Partnerships
The awardees honored at the event showcased exemplary collaboration and innovation in their partnership with FAST Logistics. Nestle Philippines, Energizer Philippines Inc., Shell Pilipinas, Kenvue (formerly Johnson and Johnson), Colgate Palmolive, and ENEOS were recognized for their remarkable contributions and transformative impact on the logistics industry.
As the first-ever AXIS Award was presented, it symbolized not only the achievements of the awardees but also the collective efforts and shared values that have propelled FAST Logistics to this momentous occasion. The event served as an inspiration for various industry professionals to strive for excellence in collaboration and innovation.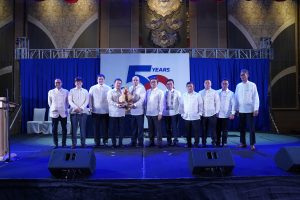 To dive deeper into the company's rich history, you may head to http://linktr.ee/fastlogisticsph or contact our Solutions Expert for a free consultation and we'll help you find what you're looking for!