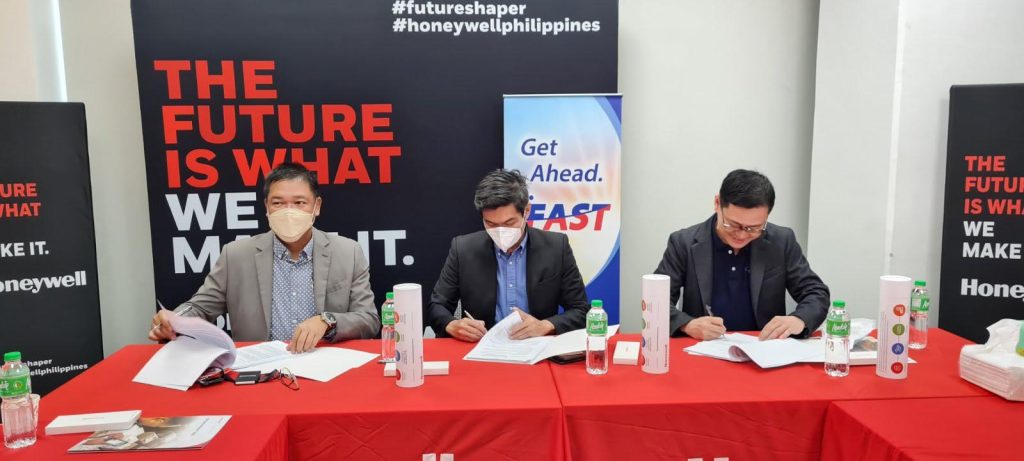 In a move that is set to digitally transform the supply chain industry in the Philippines, FAST Logistics has partnered with Honeywell, the leading manufacturer of industrial automation and control technologies.
The selection of the Warehouse Management System (WMS) by Honeywell will provide customers of FAST with advanced technology and innovative solutions catering to various logistics needs. This partnership is expected to bring great value to both companies and revolutionize the way businesses operate in the supply chain industry.
Honeywell Country Business Leader for Productivity Solutions Brad S. Santiago, FAST Services CEO Manuel Onrejas, and FAST Group CIO Jason Ngo were present at the signing to formalize the partnership.
"FAST's quest to offer the world's best solutions to our customers in the fast-changing digital landscape led us to global technology leader, Honeywell. And as it turns out, Honeywell has also been looking for a leading logistics group to work within their expansion in the Philippines," shared Fast Group CIO Jason Ngo.
Both companies began their collaboration two years ago when FAST selected the latter's Warehouse Management System (WMS) for the digital transformation of its customers' supply chains.
Furthermore, the partnership will give FAST customers access to a suite of industry-leading solutions from Honeywell including software, hardware, and other services. It supports FAST's initiatives to offer its FMCG, retail, and e-commerce customers the ability to leverage state-of-the-art management systems for real-time visibility and optimized productivity across distribution centers (DC).
The partnership also leverages FAST's application of innovations. Jason cites, "for particular solutions, like Honeywell's voice-picking technology, FAST is the only local system implementor, being the pioneer in its use in the Philippines."
FAST Logistics is a leading provider of logistics solutions and has a strong commitment to customer satisfaction. The company offers a wide range of services including transportation, warehousing, and supply chain management. With the addition of the Honeywell WMS, FAST will be able to provide its customers with an even higher level of service and support.
FAST Services CEO Manuel Onrejas added, "The partnership will give FAST and its customers access to global best practices, groundbreaking innovations, and predictive technologies that make solving tomorrow's problems possible. This brings us a step toward our vision of developing an intelligent distribution center—one which is more productive, efficient, and able to adapt quickly when business demands change. And in the process, lead to better cost structures in the supply chain of our customers."
This year, FAST is scheduled to roll out the digitalization of several sites into intelligent distribution and fulfillment centers using these improvements in IT to better their warehouse and logistics support.