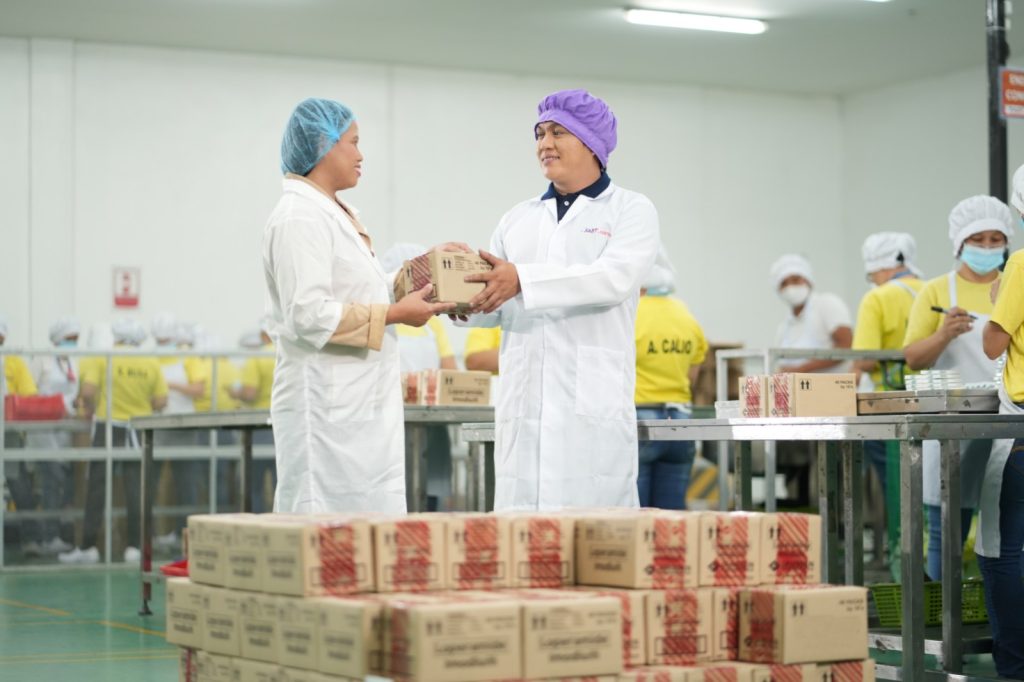 FAST Logistics Group, the Philippines' premier end-to-end logistics company, highlights how Value-Added Services contributes to the success of both logistics companies and the businesses they serve.
There's one common thread that ties businesses in the Philippines together – the need for innovation and efficiency. From a tech startup company to a healthcare institution, the quest to excel in the market is ever-present; with the emergence of value-added services as a solution to cater to the unique demands of various business sectors.
As businesses move to adapt and enhance operations, value-added services offer a versatile toolkit that can be customized to suit the requirements of any niche industry. Value Added Services (VAS) by FAST is a packaging solution that can be tailored to meet any business' specific needs for sales campaigns or retail promotions.
FAST Logistics Group, the leading end-to-end logistics company in the Philippines, places value-added services as essential for logistics providers looking to stay competitive and add value to their clients' supply chain processes. This ranges from offering product differentiation to reducing supply chain complexity, and mitigating risks. 
What Is Value Added Services? 
Value-Added Services (VAS) are additional services or features that go beyond the core offerings of a product or service. In the logistics industry, VAS refers to the supplementary services provided to enhance the value of the transportation and supply chain processes. 
These services are designed to meet the specific needs of customers, improve efficiency, and provide a competitive advantage. VAS can encompass a wide range of activities, from specialized packaging and labeling to order tracking, inventory management, and customs documentation.
With the distinction that VAS offer business, increased customer loyalty is achieved, resulting in greater satisfaction and repeat business. This also contributes to revenue diversification, ensuring financial stability and fostering business growth. 
These additional services go beyond what is typically expected or required, aiming to cater to the specific needs and preferences of customers. VAS can be found across various industries and has become an essential strategy for companies looking to differentiate themselves, increase customer satisfaction, and create new revenue streams.
VAS in in Specialized Markets
The diverse business landscape of the Philippines is marked by a wide range of industries, each with its unique challenges and opportunities. Value-Added Services (VAS) offer tailored solutions that can benefit different business types in the country. 
Let's explore some of these sectors and understand why they need value-added services:
Retail and Merchandising
Retail and merchandising constitute a dynamic sector in the Philippines, characterized by a diverse range of businesses, from small neighborhood convenience stores (sari-sari stores) to large shopping malls. In this industry, VAS offers a multitude of advantages, allowing retailers to optimize operations, increase customer satisfaction, and drive sales. 
It also extends to supply chain optimization, allowing retailers to streamline the supply chain, minimize delays, reduce errors, and cut down on costs associated with inefficiencies. These services often simplify complex supply chain operations, contributing to a more efficient supply chain
Healthcare and Medical Services
Within the healthcare sector, Value-Added Services (VAS) can enhance patient care, streamline administrative processes, and promote greater accessibility to healthcare services, particularly in remote and underserved areas. 
VAS offers a range of benefits that are reshaping the healthcare landscape in the Philippines and beyond. These services encompass a variety of essential components, such as appointment scheduling, which simplifies and expedites the booking process, reducing wait times and making healthcare services more accessible. 
Manufacturing and Industrial
In the Philippines, the manufacturing and industrial sector has witnessed a significant transformation, driven by the adoption of VAS. Manufacturers in the country have harnessed these technologies, which encompass a spectrum of tools and strategies including supply chain optimization, predictive maintenance, and quality control. 
Its utilization can elevate production efficiency, reduce downtime, and cut operational costs while simultaneously improving the quality of products. Manufacturers can also identify inefficiencies, trends, and opportunities for optimization with data-driven decision-making to fine-tune their processes, reduce production costs, and innovate.
Hospitality and Tourism
VAS in the hospitality and tourism sector have transformed the way travelers plan their journeys and interact with service providers. Online booking systems, mobile check-ins, and concierge apps all serve to enhance convenience, efficiency, and personalization in the hospitality industry.  
In particular, it encompasses various features, including online booking systems that offer a user-friendly platform for guests. They can manage reservations, reducing wait times and enhancing the overall booking process. This convenience not only attracts more customers but also boosts occupancy rates, translating to higher revenues for businesses.
Harnessing VAS for Success
With Value Added Services, businesses can utilize our tailored solution to enhance customer experiences, generate revenue, and differentiate themselves in the marketplace. When implemented effectively, VAS can be a win-win for both businesses and their customers, fostering long-term relationships and sustained growth.
Moreover, delivering high-quality products and services with VAS builds a positive brand image and reputation, that instills trust and credibility among your customer base. Furthermore, it can serve as an opportunity to cross-selling other services within a company's portfolio, expanding opportunities for revenue generation and business development.
FAST Logistics Group is the leading company in logistics and distribution solutions in the Philippines, with over 50 years of industry leadership. Let us help you get ahead by contacting our Solutions Expert or head to https://linktr.ee/fastlogisticsph